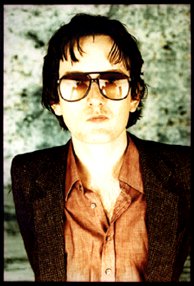 Date of birth: 19th September 1963
Place of birth: Sheffield
Starsign: Virgo
Instrument: Vocals & guitar
Height: 6'2"
Weight: 10 1/2 st.
Chest: 37"
Waist: 29"
Inside leg: 34"
Shoes: 9
Eyes: Greeny Brown
Hair: "Glints" poppy
Hobbies & interests: Mending electrical items and shoe collecting

Best things in life:
The things that hide in unexpected places.

Favourite smell:
The smell of a new vinyl holdall.

Pop songs worth crying over:
"Emma" Hot Chocolate. "A Doll's House" John Barry. "Always Coming Back To You" Scott Walker. "Rent" The Pet Shop Boys.

Favourite city:
I prefer the countryside to cities to be honest.

Annoyed by:
People who steal the plugs from public washbasins.

Favourite word:
More.

If you were somebody else would you fancy the person you are today?
Today, no. Tonight, maybe.

Before going on stage:
I always suck a vocalzone 5 mins before going onstage - if I forget then I get worried.

Best present given by a fan:
A small hand-made doll of myself (given to me at Leeds Heineken Festival).

Indulgences:
Have a cup of tea with whisky in it - then buy some shoes.

In order to relax:
"Shri Camel" by Terry Riley.

Catchphrase:
"It's the ice of fashion"

What did you want to be when you were young?
An astronaut.

Favourite item of clothing:
Black Lois cords (now deleted)

Favourite proverb or saying:
"To Thine Own Self Be True."

Collects:
Dog matchboxes (swaps would be appreciated).

Are there any products you could see yourself advertising?
Day Nurse or Gaviscon.

What's the best bit about being famous?
Getting into trendy clubs for nothing.

Three words to describe yourself...
Jarvis, Branson, Cocker.